Leadership
LAY PASTORAL LEADER
Rob Rose
Rob Rose serves as the Lay Pastoral Leader for St. John's Church and St. Michael's, Telluride. We are also proud to say that Rob has also been named as a newly appointed Postulant to Holy Orders. He grew up in New Jersey but fell in love with the wild places of the West more than 20 years ago. Rob splits his time between Colorado and Washington State, both places where he owns retail stores. He and his husband, Gerry have been together for 22 years and have several dogs and equines they share their lives with.
---
Phil Harrold – Sr. Warden
Phil is a writer, lecturer, and church historian, having taught at both graduate- and seminary-level institutions in Illinois, Ohio, and Pennsylvania. He is especially interested in the history of catechesis and spiritual formation, from the early church through the English Reformation. He also serves in music direction and accompaniment with the St. John's Ensemble. He and his wife Carol enjoy hosting meals, hiking in the mountains, and humming Masterpiece Theater themes.
---
Karla Cline – Jr. Warden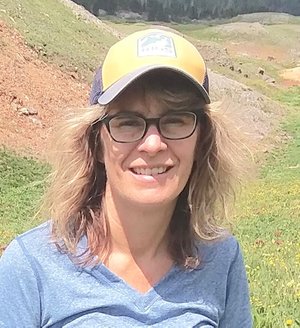 Born and raised in Chicago, Karla lived in a variety of locations including Wisconsin, New Mexico and the Czech Republic, before marrying her husband Todd, a native of Ouray. At that point she became a "lifer", gladly setting down roots in the beautiful San Juan mountains. It was this sense of rootedness that first drew Karla to the Anglican tradition, and St John's in particular. With a liturgy passed down through the generations and prayers penned by saints centuries ago, Karla felt a deep connection with believers throughout history. In St John's she found a church that has been part of the Ouray community for well over 150 years.
Beauty has also been an extremely important feature of Karla's St. John's experience. Whether it is the stained-glass windows, wooden altar or priest's vestments, the beauty of St. John's reflects the beauty of God, drawing one in, and holding you there. Karla loves to be out in the beauty of the mountains too, Nordic skiing, wildflower hiking or spending time with her husband and two sons.
---
Lynn Kircher – Treasurer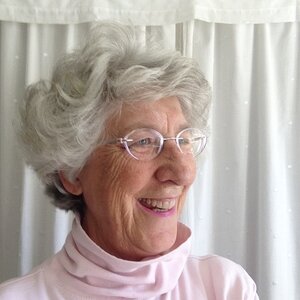 I grew up in the Hudson River Valley in the vicinity of the small village of Rhinebeck, New York where my parents ran a successful Aberdeen Angus cattle operation. My family was a member of the Church of the Messiah, a lovely Episcopal Church first built in the 1850's.
After attending college where I studied sociology and anthropology, I spent some time in Australia on a cattle station as a governess for seven children. I attended church services on the station at a small Chapel which was part of the Church of England.
It was in 1971 that I moved to this area, purchasing a building across the street from City Hall in which I ran a small gift shop for several years. I began attending St. John's soon after arriving and was married in the Church to my husband Kurt in 1975. On and off over the years I have been an active member. Since 1987 I have been an architectural designer of homes, mostly in this area.
My faith has always been my foundation but at this stage in life I am eager to learn more, to deepen my practice of faith and to worship with fellow Christians.
---
Amy Exstrum
Amy Wilson Exstrum first came to Ouray in 1970, as a child. She grew up in a combination of Ouray and Grand Junction. She graduated from Colorado State University and then taught Home Economics in Durango, Rifle, and Telluride.
Amy and her husband, Brian, were married in Ouray in 1989. Brian is a "Nebraska Boy" and they moved to "The Big Red" state in 1990, where Amy also taught school.
Brian and Amy have 24 year old twins, Olivia and Charlie. Olivia graduated from Northwestern University and is a journalist. Charlie has learning disabilities and lives with Amy and Brian. You can find Charlie all over town, volunteering in many capacities, including the Senior Citizen weekly lunch and at the library.
After Brian finished 40 years in the energy industry, they moved back to Ouray in 2019, bought Buckskin Booksellers, did a major remodel and reorganization, and then reopened as Ouray Bookshop.
---
Beth Paulson – Clerk
I have been a member of St. John's Church since 1999 when my husband and I moved to Ouray from Southern California. Prior to that we worshipped at All Saints Church in Pasadena. I taught English composition at California State University in LA for 22 years and Don was on the chemistry faculty there for 36 years. After several years of vacationing in the Four Corners area, we bought property between Ouray and Ridgway and built a home there. We have two married adult sons, seven grandchildren and two step-grandchildren in Pasadena, California and Austin, Texas. We were blessed to have made many new friends in the Ouray area, and mountain hiking, jeeping and winter sports are a big part of our lives here. In addition to being a member of the Vestry, I have enjoyed participating in the arts by teaching writing workshops and facilitating poetry events. In 2019 I was honored by being named Ouray County's first Poet Laureate. I feel both privileged and challenged to be a member of St Johns' Vestry.
---
Vivian Toan
After a few early years in the Appalachian mountains, most of my childhood was spent in Iowa. After college I moved to New York to attend law school and stayed thereafter, eventually moving to Brooklyn, to work and raise a family. My mother and father-in-law, Winthrop and Edith Toan, had retired to Ouray years ago, and for almost fifty years, my family and I returned to town every summer and portions of many winters.
I began, as a young lawyer, working for the Amalgamated Clothing and Textile Workers, during their organizing drives throughout the south. After a break to spend time with young children, I then worked for a number of years as an attorney for the New York City Department of Health.
I have four adult children: Kate, Ellie, Eric and Bobby, with spouses, Russ, Joe and Aryiro, and six grandchildren. They still come to Ouray as often as they can, and we have a well -used collection of sleds and camping gear in the basement.
During my years in Brooklyn I gradually evolved from a Congregationalist (daughter of UCC minister) into an Episcopalian. I was active in Grace Church Brooklyn Heights for many years but always found a warm welcome each time I returned to St John's. I have been grateful for Zoom during the many Covid months, and am thrilled with the return to live services.